My Blog
Posts for: October, 2014
By Dr. Bob Davidson, DDS, PC
October 20, 2014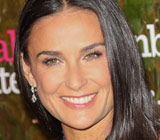 Once upon a time, a well-known Hollywood actress might have hired a private eye to keep unflattering pictures from appearing in the media. Today, that's no longer the case. Take timeless beauty Demi Moore: In a widely circulated set of photos, her gap-toothed grin showed she was actually missing one of her front teeth!
It turns out the actress released the pictures herself, as she live-tweeted the tooth replacement procedure from her dentist's office. Moore later explained that the tooth fell out suddenly as she was sitting at her desk.
Celebrities are just like regular folks… except they have more followers on twitter. So we're happy when they show us that no matter how bad a dental problem may seem, there's almost always a way to regain a gorgeous-looking smile. We're not sure exactly how Demi's dentist chose to restore the damaged tooth — but depending on the individual circumstances, modern dentistry offers a number of ways to close the gap.
A crown (or cap) is a replacement for the entire visible area of the tooth. It may be needed due to accident or trauma, or as a follow-up to root canal therapy. Placing a crown usually requires more than one office visit. First, the tooth is prepared by removing any decay and shaping it, and a precise model is made of the bite. Next, the permanent crown is custom-made in a dental laboratory; this is placed during a subsequent visit. Advances in technology, however, have made it possible in some instances to deliver the permanent crown in a single office visit. If the tooth still has a healthy root structure, a crown is usually a viable option — even when most of the visible part is gone.
What if the entire tooth, including the roots, are missing? Then your replacement options could include bridgework or a dental implant. A fixed bridge is a series of crowns joined together as one unit. The teeth on either side of the gap are prepared just as they would be for crowns, and the bridge (including a replacement for the missing tooth in the middle) is attached. Bridges have been used successfully for many years, but they have a drawback: They require enamel to be removed from the healthy teeth on either side of the gap, which could lead to a greater chance of decay, gum disease, or a root canal in the future.
The optimal solution, however, might be a dental implant. With this remarkable technology, the replacement tooth is solidly anchored into the jaw via a screw-shaped post made of titanium — a metal which actually becomes fused with the living bone tissue. A custom-made, lifelike crown is then securely attached to the metal implant. Dental implants are the most successful tooth-replacement procedure; they help preserve bone quality in the jaw — and with regular care, they can last a lifetime.
So if your smile is making you camera-shy, why not talk to us about your tooth-restoration options? If you would like additional information, please contact us or schedule an appointment for a consultation. You can learn more by reading the Dear Doctor magazine articles "Crowns & Bridgework" and "Dental Implants."
By Dr. Bob Davidson, DDS, PC
October 20, 2014
As we continue to learn about the delicate balance between the body's various organ systems, we're discovering what affects one part of the body may affect other parts. This is particularly true for patients with periodontal (gum) disease and one or more other systemic diseases — researchers have identified a number of possible links between them.
Here's a snapshot of three such diseases and how patients who suffer from them and gum disease may be affected.
Diabetes. Both diabetes (caused by the body's inability to produce insulin that regulates blood sugar levels) and gum disease can trigger chronic tissue inflammation. Because of inflammation, diabetics are more prone to infectious diseases like gum disease. From the other perspective, uncontrolled gum disease and its resultant inflammation can worsen blood sugar levels. Some research has shown treatments that reduce oral tissue inflammation in diabetics with gum disease may also help bring their blood sugar levels into normal range.
Cardiovascular Disease. Diseases of the heart and blood vessels can eventually lead to heart attacks and strokes, the world's leading causes of death. There's evidence that some types of bacteria that cause gum disease may also contribute to higher risks for cardiovascular disease. Reducing the levels of these bacteria in the mouth through periodontal treatment can help lower the risk of cardiovascular disease.
Osteoporosis. Like gum disease, osteoporosis causes acute bone loss, although from a hormonal imbalance rather than as the result of bacterial infection. The major link between the two conditions, though, relates to their treatments. On the positive side, the antibiotic doxycycline has displayed positive effects on both conditions when administered in low doses. On the other hand, a class of drugs known as bisphosphonates used to treat osteoporosis may limit bone regeneration after tooth extraction and could have implications for using dental implants to replace extracted teeth.
There's still more research needed on the relationship between gum disease and these and other systemic conditions. There's widespread optimism, though, that such research could yield new treatment approaches and procedures that bring better healing to the mouth as well as the rest of the body.
If you would like more information on the connection between oral and general health, please contact us or schedule an appointment for a consultation. You can also learn more about this topic by reading the Dear Doctor magazine article "Good Oral Health Leads to Better Health Overall."