My Blog
Posts for: November, 2014
By Dr. Bob Davidson, DDS, PC
November 19, 2014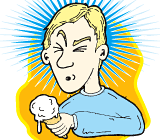 "We all scream for ice cream," the saying goes. But what if eating ice cream — or any very cold or hot food — literally makes you want to scream because your teeth hurt so much?
What causes sensitivity in teeth?
Understanding the anatomy of a tooth helps explain what happens when a tooth becomes sensitive to heat and cold. A tooth is composed of three types of tissue: a hard outer shell of enamel, the body of the tooth composed of the dentin, and an interior tissue of the pulp.
Enamel: The enamel forms the outside of the crown, the part of the tooth you normally see. Made of densely packed crystals of calcium, it is resistant to wear. It is not living tissue, and does not contain nerves, but it is capable of transmitting temperature like hot and cold.
Dentin: Inside the tooth's crown and root is a living tissue called dentin, which is a porous structure similar to bone. It is composed of microscopic tubules containing living cells, which are encased in a hard substance made of calcium crystals.
Pulp: The living dentin transmits sensation through to the pulp, which is in the center of the tooth and contains the tooth's blood vessels and nerves.
A tooth's enamel normally protects the dentin from exposure to extremes of temperature and pressure. If you wear away the enamel and expose the dentin, it will pass sensation through to the nerves in the pulp more directly. The result can range from a twinge to an excruciating pain.
Sensitivity can be caused by:
Overzealous tooth brushing resulting in enamel wear and consequently dentin exposure and wear.
Enamel and dentin erosion by acids in the foods and beverages you eat and drink.
Tooth decay — the most common cause of sensitivity. Decay destroys enamel and dentin inflaming and infecting the living tissues of the pulp, which become increasingly painful.
What can you do to make your teeth less sensitive?
Use a soft bristle tooth brush, and brush the affected teeth gently to remove all bacterial plaque. We can advise you on safe and effective brushing techniques.
Use toothpaste that contains fluoride. Fluoride strengthens tooth surfaces and makes them more resistant to sensitivity and decay.
Ask us about professionally applied fluoride varnishes or filling materials that can cover and replace sensitive or lost tooth structure.
Of course, if the problem is caused by tooth decay, make an appointment with us to remove the decay and place a filling in the sensitive teeth.
Contact us today to schedule an appointment to discuss your questions about sensitive teeth. You can also read the Dear Doctor magazine article "Sensitive Teeth."
By Dr. Bob Davidson, DDS, PC
November 04, 2014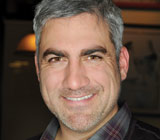 If (heaven forbid) you were to lose your two front teeth in an accident, and you needed to choose a tooth replacement method, which one would you pick? Once upon a time, that question faced Taylor Hicks, the former American Idol winner who now plays a regular gig in Las Vegas. Back then, when he was a high-school basketball star, Hicks happened to receive a blow to the mouth at a playoff game. As fate would have it, he also happened to be the son of… wait for it… a dentist. So what did he do?
The down-to-earth song stylist recently told Dear Doctor magazine how, immediately after the accident, his father administered first aid, getting him back into the game before it ended. Then, a short while afterward, Hicks had the gaps in his smile fixed with dental implants.
We think he made a good choice. While there are other tooth replacement systems, none offer the benefits provided by dental implants. In case you need a reminder, here are some facts about dental implants:
They have the highest success rate of any tooth replacement procedure — above 95%
They are the most durable type of replacement tooth — with proper care, they can last for the rest of your life
They look and "feel" completely natural, and require no special maintenance
They are the only tooth replacement system that essentially stops bone loss in the jaw (a natural consequence of tooth loss), helping to maintain good oral health
Over the long term, they can offer the best value for your investment in dental care
What makes dental implants work so well? Unlike bridgework or other methods, lifelike implant crowns are supported by a screw-like titanium metal insert, which actually becomes fused with the bone of the jaw. This not only provides the prosthetic teeth with a rock-solid anchorage, but it also helps provide the physical stimulation that bone needs to keep itself healthy. Lacking this stimulation, the jaw bone begins to atrophy and erode (melt away) — and if left untreated long enough, it can result in the appearance of premature aging and other oral health problems.
So if you have missing teeth — whether from an accident, disease, or another cause — contact us or schedule an appointment for a consultation, and find out whether dental implants might be right for you. You can learn more in the Dear Doctor magazine articles "Dental Implant Surgery" and "Dental Implants."