My Blog
Posts for: February, 2015
By Dr. Bob Davidson, DDS, PC
February 23, 2015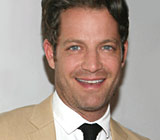 As a successful author, interior design guru (with 127 makeovers in eight years on The Oprah Winfrey Show), and host of his own television program, The Nate Berkus Show, Nate Berkus understands the important role a beautiful smile plays in one's life and career. In a recent interview with Dear Doctor magazine, Nate discussed his oral health history. Berkus credits his all natural smile — no cosmetic dentistry here — to the treatments he received as a child from his dentist. "I'm grateful for having been given fluoride treatments and sealants as a child." He then added that, "healthy habits should start at a young age."
Dental sealants are important because they help protect developing young teeth until the enamel has matured. Without dental sealants, the newly erupted immature enamel of teeth is more permeable, meaning that the acids produced by bacteria in the mouth can damage these teeth more easily. This makes the teeth less resistant and thus more susceptible to tooth decay.
Regardless of how much your children brush their teeth, the reality is that toothbrush bristles cannot reach down to clean out the crevices found in the deep grooves ("pits and fissures") of teeth. And if not removed, the bacteria found in these grooves produce decay-causing acids as a byproduct of metabolizing sugar. However, when sealants are used in combination with fluoride, good hygiene and nutrition (including lower sugar consumption), the odds of having tooth decay is dramatically reduced.
We refer to dental sealants as "pit and fissure" sealants because they protect the grooves found in the top of back teeth and the back of front teeth. Sealants also may reduce the need for subsequent treatments as your child grows older — just as it did for Nate Berkus. For these reasons, sealants are definitely something that all parents and caregivers should consider for their young children.
To learn more about dental sealants, contact us today to schedule an appointment so that we can conduct a thorough examination, discuss any questions you have as well as what treatment options will be best for you or your child. Or to learn more about sealants now, you can continue reading the Dear Doctor magazine article "Sealants for Children." And to read the entire interview with Nate Berkus, please see the Dear Doctor magazine article "Nate Berkus."
By Dr. Bob Davidson, DDS, PC
February 13, 2015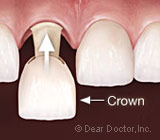 Like the ones worn by kings and queens of old, dental crowns were traditionally made of that most "royal" of metals: solid gold. This style of crown is still going strong after over a hundred years, but recent advances may have stolen some of its luster. Want to learn more about the different materials from which crowns can be made? Read on!
Gold crowns have stood the test of time, and many still consider them the best. Gold is one of the earliest materials to be successfully used for making crowns, and when properly done, it also lasts the longest: over 50 years in some cases. For these and other reasons, many dentists prefer to get gold restorations for their own teeth.
But in recent years, the use of gold crowns has been in decline — especially when the crown is for one of the front teeth. Why? In one word: aesthetics! With the advent of porcelain and porcelain-fused-to-metal (PFM) crowns, many people have opted to go with these more natural-colored tooth restorations.
PFM restorations have been in use for some four decades. They combine the strength of precious metals (gold or platinum) with the appeal of a finish that appears more like a natural tooth. With proper care, a PFM restoration may have a functional life of around 20 years.
With their pearly luster and semi-translucent sheen, all-porcelain crowns have an incredibly lifelike appearance. Porcelain itself is a glass-like material, which is specially modified to add strength when it's used in dentistry. In the past, there were some problems with brittleness in all-porcelain restorations. Today, newer formulations have been designed to avoid these issues.
High-tech materials that have recently become available to dentistry include a polycrystalline ceramic substance called zirconium dioxide or "Zirconia." It shows great promise in terms of aesthetics and strength, and is the subject of much ongoing research. One day, it may replace other materials and become the new "gold standard" of crowns.
Depending on the particular situation, one or more of these materials may be considered for your crown.
If you would like more information about crowns, please contact us or schedule an appointment for a consultation. You can also learn more about this topic by reading the Dear Doctor magazine articles "Porcelain Crowns & Veneers" and "Gold or Porcelain Crowns?"