My Blog
Posts for: April, 2015
By Dr. Bob Davidson, DDS, PC
April 24, 2015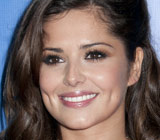 What if you had orthodontic treatments to enhance your smile — and nobody knew about it until it was all done?
That (almost) happened to British singer, cover girl and television personality Cheryl Cole. Since her big break in 2002, on the British reality show Popstars: The Rivals, Cole has had a successful music career, taken turns judging both the British and American versions of The X Factor, and graced the covers of fashion magazines like Elle and Harpers Bazaar.
And somewhere along the way, Cole wore an orthodontic appliance. It very nearly went undetected… until a colleague spilled the beans. That's when Cole was forced to divulge her secret: For a period of time, she had been wearing clear aligners on her teeth. Until her frenemy's revelation, only a few people knew — but when you compare the before-and-after pictures, the difference in her smile is clear.
So what exactly are clear aligners? Essentially, they consist of a series of thin plastic trays that are worn over the teeth for 22 hours each day. The trays are custom-made from a computerized model of an individual's mouth. Each tray is designed to move the teeth a small amount, and each is worn for two weeks before moving on to the next in the series. When the whole series is complete, the teeth will have shifted into their new (and better aligned) positions.
Besides being virtually unnoticeable, aligners are easy to remove. This makes it easy to keep the teeth clean — and can come in handy for important occasions (like cover-photo shoots and acceptance speeches). But don't remove them too frequently, or they won't work as planned. If that's a possibility (with teens, for example), aligners are available with "compliance indicators" to ensure they're being worn as often as they should be. They can also be made with special tabs to hold a place for teeth that haven't fully erupted (come in) yet — another feature that's handy for teens.
So if you need orthodontic work but prefer to stay "under the radar," ask us whether clear aligners could be right for you. Cheryl Cole did… and the results gave her something more to smile about.
If you would like more information on clear aligners, please contact us or schedule an appointment for a consultation. You can learn more about this topic in the Dear Doctor magazine articles "Clear Orthodontic Aligners" and "Clear Aligners for Teenagers."
By Dr. Bob Davidson, DDS, PC
April 09, 2015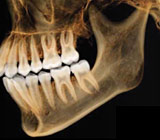 CAT scans or Computer Assisted Tomograph scans have been around for years. However, it is quickly becoming the new standard in dentistry. The reasons are clear both literally and figuratively, as they provide our office with millions of pictures so that we can combine them together to create 3-dimensional (3-D) images. Prior to this technology, we could only image the body in 2-dimensions with x-rays (radiographs) — a technology first developed by Roentgen.
One of the best features of CAT scans and CBCT (Cone Beam Computed Tomography) scanning is that they enable us to see and experience the body from the inside. Having this ability changes (and many times) improves upon the way we diagnose. Here's how they work in very simplistic terms. Picture your favorite multi-layered cake with each layer representing an image. A three-layer cake requires just three images. For us to build a 3-D image similar to the cake, we require millions of very thin layers (images) that we put together, one on top of another, until our results, one 3-D image. And by having so many thin layers, we are best able to diagnose. For example, in our cake analogy, it is easier to determine if the cake contains finely chopped nuts, berries or other ingredients when you cut numerous very thin slices of cake to examine versus having one large chunk of cake.
It is important to note that in our office we may not recommend using this technology in all cases, as it may not be necessary for your particular diagnosis and/or treatment. While the technology can prove invaluable, it is quite expensive and a simple 2-D x-ray may provide everything we need. However, some dental specialty areas where CAT scans are currently used include:
Orthodontists and pediatric dentists
Cosmetic dentists and tooth replacement specialists (prosthodontists)
Oral surgeons
Root canal specialists (endodontists)
Gum specialist (periodontists)
To learn more about CAT scans and how they are used in the various specialty areas, read the Dear Doctor magazine article "CAT Scans in Dentistry." Or you can contact us today to schedule an appointment to discuss your specific questions.