My Blog
Posts for: September, 2016
By Dr. Bob Davidson, DDS, PC
September 22, 2016
Are bleeding gums something you should be concerned about? Dear Doctor magazine recently posed that question to Dr. Travis Stork, an emergency room physician and host of the syndicated TV show The Doctors. He answered with two questions of his own: "If you started bleeding from your eyeball, would you seek medical attention?" Needless to say, most everyone would. "So," he asked, "why is it that when we bleed all the time when we floss that we think it's no big deal?" As it turns out, that's an excellent question — and one that's often misunderstood.
First of all, let's clarify what we mean by "bleeding all the time." As many as 90 percent of people occasionally experience bleeding gums when they clean their teeth — particularly if they don't do it often, or are just starting a flossing routine. But if your gums bleed regularly when you brush or floss, it almost certainly means there's a problem. Many think bleeding gums is a sign they are brushing too hard; this is possible, but unlikely. It's much more probable that irritated and bleeding gums are a sign of periodontal (gum) disease.
How common is this malady? According to the U.S. Centers for Disease Control, nearly half of all  Americans over age 30 have mild, moderate or severe gum disease — and that number increases to 70.1 percent for those over 65! Periodontal disease can occur when a bacteria-rich biofilm in the mouth (also called plaque) is allowed to build up on tooth and gum surfaces. Plaque causes the gums to become inflamed, as the immune system responds to the bacteria. Eventually, this can cause gum tissue to pull away from the teeth, forming bacteria-filled "pockets" under the gum surface. If left untreated, it can lead to more serious infection, and even tooth loss.
What should you do if your gums bleed regularly when brushing or flossing? The first step is to come in for a thorough examination. In combination with a regular oral exam (and possibly x-rays or other diagnostic tests), a simple (and painless) instrument called a periodontal probe can be used to determine how far any periodontal disease may have progressed. Armed with this information, we can determine the most effective way to fight the battle against gum disease.
Above all, don't wait too long to come in for an exam! As Dr. Stork notes, bleeding gums are "a sign that things aren't quite right." Â If you would like more information about bleeding gums, please contact us or schedule an appointment. You can read more in the Dear Doctor magazine article "Bleeding Gums." You can read the entire interview with Dr. Travis Stork in Dear Doctor magazine.
By Dr. Bob Davidson, DDS, PC
September 07, 2016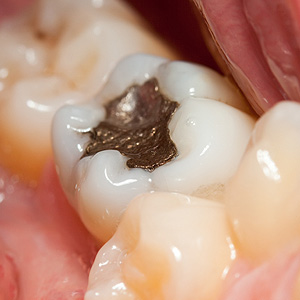 With all the new tooth-colored fillings for cavities, it's easy to overlook metal amalgam. While this mainstay of dental care for over a century might not be as attractive as composite resins or glass and resin ionomers, it still has the advantage of strength and durability.
Amalgam is a stable metal alloy usually made up of silver, tin, copper and mercury. The metals are proportioned and mixed precisely to guard against "free" mercury molecules, which could pose a health hazard. The mixture is pliable at first, but then sets hard once molded into the prepared area of the tooth.
Besides strength, amalgam's other advantages include low cost, high resistance to wear and biocompatibility (not toxic to the body or allergy-producing). At the same time, it can require more tooth structure removal to accommodate a filling and cause higher sensitivity to temperature for a while after installation. Its main disadvantage, however, is appearance — it's now considered unacceptable from an aesthetic point of view to use it in visible areas like the front teeth.
Because of this, materials resembling natural tooth color are coming into vogue, especially as their strength improves. Still, dental amalgam continues to play a useful role, especially in less visible back teeth with higher chewing forces.
One past concern about dental amalgam is the inclusion of mercury in the alloy. As mentioned before, mercury is hazardous in a "free" form when not knit microscopically with other metals; as such it can emit a vapor that could enter the bloodstream and damage the nervous system. But after several studies by various organizations, the American Dental Association has concluded amalgam's precise mixture prevents the mercury from taking this form: although some vapor is given off during chewing it's far too low in concentration to pose any danger.
Dental amalgam continues to be an effective choice for fillings. Whether it's the right choice for you will depend on the type and location of a tooth to be filled, and whether durability is a higher concern than appearance. If we do recommend an amalgam filling, you can be assured it's a safe and lasting choice.
If you would like more information on your choices for dental fillings, please contact us or schedule an appointment for a consultation. You can also learn more about this topic by reading the Dear Doctor magazine article "Silver Fillings — Safe or Unsafe?"