My Blog
Posts for: April, 2020
By Dr. Bob Davidson, DDS, PC
April 20, 2020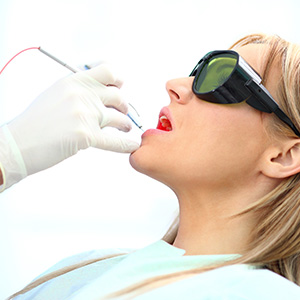 Advanced tooth decay is a serious dental problem that can threaten an affected tooth's survival. But for decades now dentists have reliably used root canal treatment to better a decayed tooth's odds. This routine procedure performed with dental drill and special hand tools removes infected tissue inside a tooth and replaces the voids with a filling to prevent future infection.
But now there's a new way to perform a root canal—with a surgical laser. Lasers, amplified and focused light beams, aren't new to healthcare—they're an integral feature of many routine medical treatments and surgeries. But their use is relatively new to dentistry, and to endodontics (treating the interior of teeth) in particular.
Lasers can be used in root canal treatment to perform a number of tasks. They can remove diseased tissue and other debris from the innermost tooth pulp. They can be used to clean and shape root canal walls in preparation for filling. And they can also be used to soften and mold the filling material to fit more precisely within a tooth's particular root canal network.
Although laser-assisted root canal therapy isn't yet widespread, laser's limited use to date has given us a fair picture of both their advantages and disadvantages. As with other medical laser applications, lasers are very precise in removing diseased tissue without too much disruption of healthy tissue. There's less need for anesthesia than with dental drills, and lasers are a lot less noisy and jarring. Patients by and large experience less bleeding, as well as less discomfort or infection afterward.
But because laser light can only travel in a straight line, they're difficult to use in many tightly curved root canals. In these cases, the traditional methods are better suited, although a laser can be used in conjunction with other tasks. Temperature with lasers must also be carefully managed lest the high heat that's often generated damages natural tissues.
Although lasers won't be replacing traditional treatment methods for decayed teeth in the foreseeable future, there's hope they'll become more commonplace as technology and techniques continue to advance. Lasers can only improve what already is an effective means of saving teeth.
If you would like more information on treatments for advanced tooth decay, please contact us or schedule an appointment for a consultation. You can also learn more about this topic by reading the Dear Doctor magazine article "Laser-Assisted Root Canal Treatment."
By Dr. Bob Davidson, DDS, PC
April 10, 2020
The 2019 Grammy Awards was a star-studded night packed with memorable performances. One standout came from the young Canadian singer Shawn Mendes, who sang a powerful duet of his hit song "In My Blood" with pop diva Miley Cyrus. But that duo's stellar smiles weren't always quite as camera-ready as they looked that night.
"I had braces for four and a half years," Mendes told an interviewer not long ago. "There's lots and lots and lots of photo evidence, I'm sure you can pull up a few." (In fact, finding one is as easy as searching "Sean Mendes braces.")
Wearing braces puts Mendes in good company: It's estimated that over 4 million people in the U.S. alone wear braces in a typical year—and about a quarter of them are adults! (And by the way: When she was a teenager, Miley Cyrus had braces, too!)
Today, there are a number of alternatives to traditional metal braces, such as tooth-colored braces, clear plastic aligners, and invisible lingual braces (the kind Cyrus wore). However, regular metal braces remain the most common choice for orthodontic treatment. They are often the most economical option, and can be used to treat a wide variety of bite problems (which dentists call malocclusions).
Having straighter teeth can boost your self-confidence—along with helping you bite, breathe, chew, and even speak more effectively. Plus, teeth that are in good alignment and have adequate space in between are easier to clean; this can help you keep your mouth free of gum disease and tooth decay for years to come.
Many people think getting braces is something that happens in adolescence—but as long as your mouth is otherwise healthy, there's no upper age limit for orthodontic treatment. In fact, many celebrities—like Lauren Hutton, Tom Cruise and Faith Hill—got braces as adults. But if traditional braces aren't a good fit with your self-image, it's possible that one of the less noticeable options, such as lingual braces or clear aligners, could work for you.
What's the first step to getting straighter teeth? Come in to the office for an evaluation! We will give you a complete oral examination to find out if there are any problems (like gum disease or tooth decay) that could interfere with orthodontic treatment. Then we will determine exactly how your teeth should be re-positioned to achieve a better smile, and recommend one or more options to get you there.
If you have questions about orthodontic treatment, please contact our office or schedule a consultation. You can read more in the Dear Doctor magazine articles "The Magic of Orthodontics" and "Lingual Braces: A Truly Invisible Way to Straighten Teeth."