My Blog
Posts for tag: jaw pain
By Dr. Bob Davidson, DDS, PC
April 30, 2020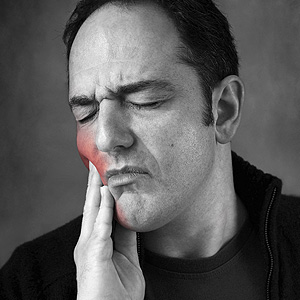 As many as 36 million adults in the U.S. suffer from some form of chronic jaw pain. What's more, many of these may also experience other painful conditions like arthritis or chronic fatigue in other parts of their body.
Chronic jaw pain is actually a group of difficult to define disorders collectively referred to as temporomandibular joint disorders (TMJD or also TMD). TMD not only refers to pain symptoms of the temporomandibular (jaw) joints but also of the jaw muscles and surrounding connective tissue. Most physicians and dentists agree TMD arises from a complex range of conditions involving inheritable factors, gender (many sufferers are women of childbearing age), environment and behavior.
A recent survey of approximately 1,500 TMD patients found that nearly two-thirds of them also suffered from three or more related health problems like fibromyalgia, chronic fatigue syndrome, rheumatoid arthritis, headaches, depression and problems sleeping. The understanding of TMD's connection with these other conditions is in its early stages of research, but there's avid interest among healthcare providers to learn more and possibly devise new treatments for TMD in coordination with these other related conditions.
In the meantime, TMD patients continue to respond best with the traditional approach to treatment, including physical therapy, thermal (hot or cold) compresses to the area of pain, medication and modifying the diet with more easier to chew foods. In extreme cases, jaw surgery may be recommended; however, success with this approach has been mixed, so it's advisable to get a second opinion before choosing to undergo a surgical procedure.
Hopefully, further study about TMD and its connection with other conditions may yield newer treatments to ease the pain and discomfort of all these conditions, including TMD. You can stay up to date on these and other developments for coping with the discomfort of TMD at www.tmj.org and through your healthcare provider team.
If you would like more information on TMD, please contact us or schedule an appointment for a consultation. You can also learn more about this topic by reading the Dear Doctor magazine article "Chronic Jaw Pain and Associated Conditions."
By Dr. Bob Davidson, DDS, PC
June 16, 2014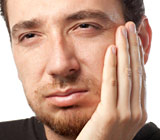 If you were recently in an accident or received a hard hit while playing sports and you have been feeling jaw pain ever since, you may be suffering from a serious injury. It is important that you make an appointment with us immediately, so that we can conduct a proper examination, make a diagnosis and prescribe a suitable treatment. Even if the pain is lessening, you should still make an appointment.
Without seeing you, we have no way of definitively diagnosing the cause of your pain. However, here are a few possibilities:
You displaced a tooth or teeth.
You indirectly traumatized or injured the jaw joint (TMJ — temporomandibular joint). This trauma will cause swelling in the joint space, and the ball of the jaw joint will not fully seat into the joint space. If this is the issue, it is likely that your back teeth on the affected side will not be able to touch. Over time, the swelling should subside, allowing the teeth to fit together normally.
You may have a minor fracture of your lower jaw. The most common is a "sub-condylar" fracture (just below the head of the joint), which will persist in symptoms that are more severe than simply bruising and swelling.
You may have dislocated the joint, which means the condyle or joint head has been moved out of the joint space.
All of the above injuries can also cause muscle spasms, meaning that the inflammation from the injury results in the muscles on both sides of the jaw locking it in position to stop further movement and damage.
The most critical step is for you to make an appointment with our office, so we can conduct a physical examination, using x-rays to reveal the extent of your injury. We'll also be able to see whether the injury is to the soft tissue or bone.
Treatment may involve a variety of things, including anti-inflammatory and muscle relaxant medications. If your teeth have been damaged, we'll recommend a way to fix this issue. If you have dislocated your jaw, we may be able to place it back through gentle manipulation. If you have fractured your jaw, we'll need to reposition the broken parts and splint them to keep them still, so that they can heal.
If you would like more information about jaw pain, please contact us or schedule an appointment for a consultation. You can also learn more by reading the Dear Doctor magazine article "Jaw Pain."